Magical Gifts for Beltane and Mother's Day
Beltane is coming up on May 1st, with Mother's Day just a few weeks after on the 14th.
With these two celebrations in mind, we've curated a collection of thoughtful gifts—magical books, journals, oracle decks, and more—to celebrate the end of spring and the magic of motherhood.
So, what is Beltane? In Ritual: Magical Celebrations of Nature and Community from Around the World, author Nikki Van De Car shares the origins of this ancient end-of-spring celebration. It all started in ancient Rome with Floralia, a festival that "was a bit more pleasure-seeking and passionate than most." From there, the ancient Greeks observed Maiouma to celebrate the gods of pleasure and love, Dionysus and Aphrodite.
Over time, these traditions slowly spread through Europe, with interpretations of the holiday shifting to fit the beliefs of each culture. "In Gaelic and Celtic cultures, Floralia became known as Beltane, which translates to 'lucky fire.' All household fires would be doused and the Beltane bonfire would be lit in each village…the bonfires were meant to be leaped over, both for luck and for protection from fairies." We love how Ritual teaches us about magical celebrations like Beltane, and how they vary across cultures, which is why we think it's a lovely gift idea for mothers open to learning about magical celebrations held across the world!
If you're curious about Beltane, check out our blog post "Enchanting Beltane Rituals for New Witches."
Another Nikki Van De Car favorite that makes the perfect gift isThe Witchy Homestead: Spells, Rituals, and Remedies for Creating Magic at Home. In this book, Nikki covers the act of enchanting your food, health, and home, through gardening, foraging, little spells, rituals, recipes for homemade balms and remedies, and so much more. We love how Nikki invites us to find the magic in the mundane, and especially enjoy her magical approach to keeping house—a lovely offering for mothers who may feel burnt out by the labor of running a household.
We also love how this book invites us to connect with the mother of all mothers: Mother Earth. "Mama Earth holds us all. If we feel lost without her, she is easily found, and once we have returned to her embrace, we can find the peace, awe, creativity, and magic we seek…and live it every day."
Along that same theme, Jolene Hart's Well-Rested Every Day: 365 Rituals, Recipes, and Reflections for Radical Peace and Renewal is a fantastic guide to prioritizing rest by doing one small thing each day. It's the perfect gift for anyone living in the modern world, with tips and recipes that help calm and restore the body, rituals for stillness and presence, and so much more. Mothers ought to be celebrated year-round, and "this book is a timeless celebration of the power of rest and a woman's right to claim it on any day—in any moment—she chooses."
Want to gift something a bit more interactive? Invite your mother to be present and embrace a sense of play with theCrystals 500-Piece Puzzle. This beautifully illustrated puzzle printed on high-quality stock features favorite gems including rose quartz, lapis lazuli, and more. Plus, it comes with a bonus book about crystals that includes their historical uses, key properties, and how to incorporate them into energetic grids.
If your loved one is new to the mystical realm, an oracle or affirmation deck could be a great entry point. Maude White's Resilience Alchemy: A Deck and Guidebook for Self-Discovery and Empowerment is an 83-card deck that gently invites you into the process of exploring and expanding your inner strength and adaptability by finding new ways to grow and solve problems.
We love the daily-check in spread outlined in the guidebook. It provides a "simple, straightforward, and undemanding way to start your day." With each question, you pull a card and interpret the answer:
1. How can I be loving and forgiving toward myself today?
2. How can I feel secure and confident in my identity today?
3. How can I know myself and respond and not react to my triggers today?
This is just the tip of the iceberg that this deck and guidebook offers—it's truly a gift that can be used every day! We also love Destiny Taylor's Golden Mantras: Affirmation Deck and Guidebook, a stunning deck illustrated by Catherine Willett, which features 52 powerful affirmations that help you "connect to your highest self and nourish the empress within."
Learn more about these magical offerings and more in our full list of Mother's Day and end-of-springtime gift ideas below.
Well-Rested Every Day by Jolene Hart, bestselling wellness book author of the Eat Pretty series, is an inspirational guide for the millions who recognize their need for rest, but lack the knowledge, ideas, or support to take action. Its pages offer 365 ideas to inspire pause, including simple tips and recipes that calm and restore the body; rituals that encourage presence, stillness, and intuition; practical applications of the most cutting-edge science on rest; and guidance on shifting habits and mindsets that block the ability to rest.

Find even more inspiration with Ignite Your Light: A Sunrise-to-Moonlight Guide to Feeling Joyful, Resilient, and Lit from Within.
Illustrated by
Barbara Tamilin
From the bestselling author of Practical Magic comes an inspiring, illustrated collection of magical celebrations of nature from around the world—with rituals for incorporating them into your own practice. The arrival of Spring is welcomed with very different ceremonies across very different cultures, but they all honor the Winter Solstice. Each of these celebrations is a ritual, a form of magic created by community and tradition. And while their differences can help us understand their various cultural identities, their similarities can create a bond that reaches across space and time. This beautifully illustrated book from Nikki Van De Car teaches readers the history and meaning behind 40 of these ritual celebrations, organized by season. Each ritual will include suggestions for participating in and appreciating these storied rituals, while honoring their origins and the cultures from which they come.

Learn more about springtime rituals with RP Mystic's blog post "Magical Celebrations for Spring from Ritual by Nikki Van De Car."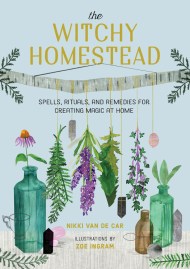 Illustrated by
Zoe Ingram
The Witchy Homestead is your guide to finding, creating, and living this essential magic—it is a comforting companion as you build a wellspring of magical self-sufficiency, and a seasoned teacher as you cultivate enchanted resilience. Within its pages you will find magically-tinged suggestions for growing or finding your own food regardless of where you live, engaging in natural healing practices, connecting to the ancient magic of the world around you, and for protecting all that you have created.
 
Bring a touch of peace and wonder to the day ahead with the guided journal Morning Magic, a perfect blend of wellness and magic to introduce enchantment to each sunrise. From ritual cleansing and manifestation rituals to dream reflections and intention setting, begin each day with a bit of magic. This journal includes instructions for creating a sacred space and 12 distinct rituals. Each ritual includes a guided prompt, followed by space for journaling and recording the date for new reflections each time the ritual is performed. This is the perfect gift for anyone looking to incorporate modern mysticism, self-care, and meditation into their practice.
 
Cultivate calm and creativity with Magical Meditations, a beautiful guided journal filled with soothing spells, restorative rituals, and mystical meditations to inspire peace and mindful reflection. Harness the power of intention with creativity-sparking prompts and enchanted illustrations as you write, draw, and dream up a life filled with peace, clarity, and magic.
 
This guided journal includes 30 prompts to inspire mindful reflection, 10 spells, rituals, and meditations to incorporate into your practice, an introduction to calming magic, full-color illustrations throughout, and blank, lined, and uncoated pages for recording your own dreams, hopes, and magic.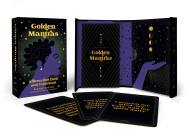 Connect to your higher self and nourish the empress within with Golden Mantras, a stunning deck and guidebook set of 52 powerful affirmations from The Mama Green founder Destiny Taylor, illustrated by The Queen of Wands artist Cat Willett. Each mantra has been curated with intention to help you cultivate love, confidence, resilience, abundance, and more. This set includes 52 illustrated mantra cards enhanced with gold metallic ink, plus a 96-page illustrated guidebook filled with powerful rituals and journaling prompts.

Dive deeper with RP Mystic's blog post "Golden Mantras: Affirmations for Self-Love, Healing, and Abundance."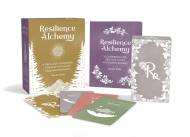 Resilience Alchemy operates under a simple principle: In order to feel healthy and fulfilled, we might sometimes need to rearrange and rethink certain aspects of our lives. This enchanted yet practical deck and guidebook from celebrated cut-paper artist Maude White provides us with a unique system to help us do this rearranging and rethinking. Through the arrangement and combination of the 83 cards in this deck, the alchemy of the system occurs. Each Sisterhood, Remedy, and Gift card is one element of the Resilience Alchemy system, specially designed and chosen to help us in unique and innovative ways. Whenever you find yourself unsure, expanding, struggling, or needing to ask tough questions, Resilience Alchemy is here to help you generate new answers and live an empowered, creative, and resilient life.
 
Dive deeper with RP Mystic's blog post "Self-Care for the New Year with Resilience Alchemy."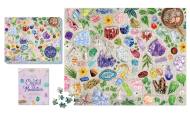 Explore the essential qualities and magical properties of iconic crystals and gems, including rose quartz, Tiger's Eye, lapis lazuli, and more! This deluxe 500-piece puzzle and book set includes an informative, 32-page illustrated mini book on crystals, including their historic uses, key properties, and incorporation into energetic grids. Finished puzzle measures approximately 16 X 20″.

Of all the celestial bodies, the moon brings with it the most mystery, beauty, and opportunity for cleansing renewal. In this beautiful mini book, bestselling author and practiced witch Nikki Van De Car introduces readers to the astrological significance of the moon and guides them through spells, incantations, and renewing rituals associated with lunar magic. From honoring the Full Moon and New Moon to cleansing crystals and inviting dreams, explore the divine energy and enriching practices associated with this planetary body.
Embark on a mystical journey with this collection of 3 adorable mini books: Crystals, a practical guide to various crystals and their uses; Dreams, an exploration of common symbols and interpretations; and Palm Reading, a deep dive into the fortunes hidden within your hands. It's the perfect gift for divination enthusiasts and mystics!