Golden Mantras: Affirmations for Self-Love, Healing, and Abundance
Dear mystics, it's time for some golden self-care! After all, how can we manifest our intentions if our inner energy is depleted? Shake off negativity and nourish the empress within with Golden Mantras: Affirmation Deck and Guidebook from The Mama Green founder Destiny Taylor, illustrated by Cat Willett. Each of these 52 powerful affirmations has been curated with intention to help you cultivate love, confidence, resilience, abundance, and more. Plus, stunning illustrations of proud Black women help you connect to your higher self. It's vibes on vibes on vibes!
We offer you an exclusive excerpt from the included guidebook, featuring two magical rituals and an insightful three-card spread. Plus, get to know the healing power of the deck with three cards to help you manifest self-love, healing, and abundance.
Golden Mantras is on sale April 25th and available for pre-order now wherever books are sold.
How to Use Your Deck
There are no rules when using this deck. It was truly created for you to make your own. When you look at its beautiful illustrations, ask yourself, "What do I need today?" The thought or feeling that imme­diately follows is your intuition speaking to you; listen with an open mind and heart. If you're currently strengthening your con­nection with your intuition, this deck will help you do so.
Rising Ritual
Rise in the morning and say hello to the sun.
Grab your journal and find a comfortable place to sit. Gently close your eyes and flow through three delicious, grounding breaths.
After your last exhale, grab your Golden Mantras deck and pull the number of cards that you feel called to.
Speak the mantra(s) aloud.
Read the passage from this guidebook associated with each card, and complete the journaling prompt to wrap your ritual.
Golden Prayer
Find yourself in your sacred safe space.
Move yourself into a delicious state of gratitude by reciting the following:
Dear (to whom you send prayers),
Thank you for allowing me to be the soul to inhabit this magnificent body and lead this divine journey you've conspired with me to create. I thank you for the ultimate gift of life and the blessing of breath. I give thanks for your acceptance and how you generously give me grace.
*Note: Feel free to express your gratitude for more blessings you're grateful for.*
After giving thanks, describe in depth what it is you're calling in. Be sure to include the "why" of it all.
Once you've asked for your blessings, ask the divine to offer words of wisdom that will help you along your journey of manifestation.
Pull a Golden Mantra and speak the words into the Universe.
Spread
Envision three empty card slots in front of you. Label them with three different areas of your life in which you seek guidance (for example: Family, Finances, and Career).
Shuffle your Golden Mantras deck and then select a card for each slot you've envisioned.
Read the mantra on each card aloud, then grab your journal and reflect on its relation to the specific area of life it's addressing.
Affirmations
I am no longer my own worst enemy. I am the love of my life.
My love, it's time to shower yourself in posi­tive self-talk. You've spent most of your life speaking down to yourself and questioning your ability to show up in the world the way you truly desire. Like many, this has become your default response when you explore making shifts in your life.
Affirm that you are the love of your life. Promise that you will go hard for your hap­piness and peace. You are no longer your worst enemy.
JOURNAL PROMPT: How am I my worst enemy, engaging with negative self-talk or other patterns that keep me from reaching my high­est potential? How can I become my biggest sup­porter and the love of my life?
I am my best healer. I am my strongest healer, and I've got this.
My sweet love, no one will ever know you as intimately as you know yourself. Just breathe, for one moment, to hear your heart. It will tell you what is needed to nourish its wounds, for it knows you are its greatest healer. You've got this, beautiful one.
JOURNAL PROMPT: Sit yourself in a quiet space and take three breaths. Now close your eyes and take three slower, much deeper breaths. Allow silence to fill the air until you feel you are rooted. Ask your heart what's wrong, and then ask it why. Once it's done speaking, ask how you can begin to nourish its wounds.
I am unlearning lack and scarcity. Abundance is a frequency I vibe on.
My love, you attract what is needed and divinely desired with ease. You lack nothing, and resources are available for you in abun­dance. It's time to break down this mind-set of scarcity and dance in the frequency of all that is available to you.
JOURNAL PROMPT: Write down your thoughts of lack and scarcity. Then follow up with a real example of how you received these things, despite your fears.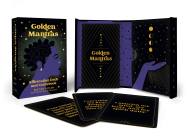 Cultivate your inner power, resilience, and essential magic with Golden Mantras, a stunning deck and guidebook set from creator Destiny Taylor and illustrated by artist Cat Willett. 

Do you feel clouded by all of the perspectives shared on social media? Are you looking to tap into your own deeper power? Take your spiritual practice off of the internet and invite Golden Mantras into your home. This beautiful collection deck and guidebook set features 52 powerful affirmations—curated with intention. Allow the stunningly illustrated cards and inspiring guidebook to become vessels of inspiration and tools to help you further connect to your higher self and nourish the empress within. 

This set includes:
Illustrated mantra cards. 52 illustrated mantra cards, enhanced with gold metallic ink. 
Companion guidebook with rituals and sample spreads. A 96-page, illustrated paperback guidebook describes the process of the cards' creation and includes rituals, mantra reflections, example spreads, and ideas for use with tarot and oracle decks. 
Magnetic closure travel case. The illustrated magnetic closure travel case folds open to reveal the guidebook on one side, and a secure spot for cards on the other. A sturdy magnet makes this set durable and perfect for taking your spiritual practice on the go. 
Related Posts
Featured Post