Celebrate the Magic of Pride with Ash + Chess + Exclusive Giveaway
RP Mystic is celebrating Pride Month with a magical Q&A with Ash + Chess, creators of Queer Tarot: An Inclusive Deck and Guidebook and the forthcoming My Queer Year: A Guided Journal. Read on to learn more about what Pride means to Ash + Chess, how they manifest that Pride in their new tarot deck, and how Pride influenced the creation of their new guided journal.
Plus: Three lucky winners will receive a copy of Queer Tarot + My Queer Year! Enter for your chance to win below.
Ash + Chess, thank you so much for taking the time to chat with us during Pride Month! This is such a magical event for the LGBTQIA+ community, and everyone experiences and shares that Pride in so many different ways. What does Pride mean to you?
Pride to us is celebrating the community around you and the part you play in it. It's about taking care of each other and fighting for equity and equality for all LGBTQIA+ people. We are starting to see so much visibility and acceptance, but with both of those comes backlash from the people who don't want to see us thrive, and that has taken the form of policing trans bodies and bodies with uteruses, rolling back protections and rights for LGBTQIA+ people, and outward hate and bullying towards the community. While Pride has always been about celebrating how far we've come, the most important thing to remember is that we are STILL on that journey and we are still under attack.
How can modern mystics use Queer Tarot to manifest the values you most love about Pride?
When we were making this deck, the two biggest things we had in mind for what this deck could help cultivate in readers is a deeper understanding of your queer sense of self as well as the importance and the connection you have to your community. While solitude is good for some things, the community will always have your back.
Queer Tarot is certainly bursting with Pride – from the art to the models to the guidebook. What kinds of discoveries did you make about yourselves and the community while creating the deck?
While casting for the Queer Tarot, we saw so many submissions come in. We had to narrow down from over 500 applicants to about 100 and it was so hard. While doing this though, we discovered how cute and special and connected queer people are. People shared their stories, backgrounds, and favorite tarot cards with us. Being able to hear everyone's bits and pieces of their lives made us realize that it really is true – community is the most important thing! We realized that by creating this deck, we were creating a way for queers to become even more connected to each other and to recognize that and cherish it.
We are so excited for the upcoming release of My Queer Year! How has your Pride influenced the creation of this unique journal?
Like all of the projects we do, everything we make is inspired by what we would've liked to see on shop shelves growing up. I (Ash) was a big fan of guided journals growing up, so getting to a point in our creative careers where we could create our own version that is more focused around your queer identity is so exciting! We hope that this little journal will shine some light and help in guiding people to experiment with their identity and discover their true selves.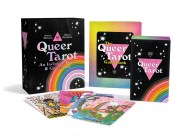 A vibrant, deluxe illustrated tarot deck and guidebook set, centering and celebrating LGBTQ+ identity, created by queer and trans artist team Ash + Chess. 
AN INCLUSIVE, AFFIRMING DECK: Queer Tarot is a bright, bold interpretation of the tarot that offers inspiration, affirmation, and LGBTQ+ representation. Created by queer and trans artists Ashley Molesso and Chess Needham of Ash + Chess, this reimagining of the classic figures in the Major and Minor Arcana showcases a wide range of gender expressions and sexual orientations, and incorporates queer history and iconography throughout.  
DELUXE SET: This set includes 78 full-color illustrated tarot cards (3 X 5 inches), shrink wrapped in an interior travel case; a 168-page, full-color illustrated flexibind book (4 3/4 X 6 inches); and a keepsake magnetic closure box with metallic foil accents. Cards and travel case are embedded in an interior flocked tray. 
FULLY ILLUSTRATED TAROT GUIDEBOOK: The flexibind guidebook provides an illustrated introduction to the tarot, with LGBTQ+ descriptions and suggested interpretations for each card, as well as instructions for sample readings and a brief history of tarot. 
VIBRANT FULL-COLOR ART FROM ASH + CHESS: Queer Tarot features Ash + Chess's signature colorful, risograph-style illustrations, including retro color palettes and bold, detailed figures. 
ALL CARDS BASED ON REAL, DIVERSE MODELS: Each card in Queer Tarot is based on real LGBTQ+ folx commissioned for this project by Ash + Chess. The deck celebrates a full range of races, ethnicities, gender identities, sexual orientations, sizes, and abilities. 
A PERFECT GIFT: This joyful, inclusive, and beautiful tarot deck set is an ideal gift for tarot novices, seasoned readers, queer folx of all ages, and their allies. 
A note on packaging:
 In order to help honor our planet and reduce waste, we have only shrink wrapped the interior tarot cards, rather than the keepsake box. Please feel confident that your product is not defective or used, but rather represents a step we are taking to protect our collective home. When you open your deck, you will find that the actual cards inside the box are shrink wrapped for protection and to ensure first use by the buyer.
Explore queer identity and plan for your best year ever with My Queer Year, a guided journal and planner that centers and celebrates LGBTQ+ identity, created by queer and trans artist team Ash + Chess. 
A GUIDED JOURNAL TO CELEBRATE AND EXPLORE LGBTQ+ IDENTITY: With dozens of guided prompts — organized into four-week themes like "Community," "History," and "Identity" — fun sidebars about LGBTQ+ events and icons throughout history, calendar-style planning pages, and plenty of space for free writing, this hybrid guided journal-planner is a thoughtful, engaging tool for self-exploration.
DELUXE PACKAGING: My Queer Year is packed with deluxe touches, like holographic foil, neon-bright illustrations, tabbed planning sections, and an engaging, easy-to-navigate design.
BONUS STICKERS: Each copy comes with 3 sheets of bonus stickers!
VIBRANT FULL-COLOR ART FROM ASH + CHESS: My Queer Year features Ash + Chess's signature colorful, risograph-style illustrations, including retro color palettes and bold, vibrant iconography, including flags, hearts, rainbows, stars, and more.
A PERFECT GIFT: This joyful, inclusive, and beautiful guided journal-planner is an ideal gift or self-purchase for LGBTQ+ folx of all ages.