Meet the Author: Jordannah Elizabeth of Astrology for Black Girls, Interviewed by Nyasha Williams of Black Tarot
RP Mystic's offering of books for young mystics welcomes a wonderful new addition: Astrology for Black Girls by Jordannah Elizabeth, illustrated by Chellie Carroll – on sale today! To celebrate, we are sharing an insightful Q+A with the author, conducted by Nyasha Williams, creator of the forthcoming Black Tarot: An Ancestral Awakening Deck and Guidebook and accompanying Ancestral Illumination guided journal, both on sale December 6th, and available for pre-order now.
You may remember seeing Astrology for Black Girls in BuzzFeed's fantastic round-up "Black Girl Magic: 15 Books By Black Women That Explore The Supernatural" (sneak a peek at the shout-out for another upcoming title, Signs & Skymates by Dossé-Via Trenou)! This middle-grade read provides a thorough introduction to astrology with advice on starting a conversation about the topic with family and friends. Read on to learn more! And watch this space for part two when Jordannah interviews Nyasha about Black Tarot, in November!
Nyasha Williams: While you hint at it briefly at the back of the book, Jordannah, when did you become involved in astrology and spiritual studies? What drew you to follow this path?
Jordannah Elizabeth: I began studying astrology at about 12 years old. My mother would take me to bookstores and I would sit in the aisles for hours and study. I don't remember when I was introduced to astrology, it may have just been a discovery, maybe a book about birthdays. I've always been interested in famous people's (writers and philosophers mainly) birthdays and how it attributed to their personalities and talents. I believe "The Secret Book of Birthdays" by Gary Goldschneider and Joost Elffers was probably the book that caught my eye. It's a very large book so it's easy to spot.
After that, I just went deeper and continued to study for many years. Once I was confident enough with the sun sign personalities, I became interested in synastry or the astrology of relationships. That's how I learned about my chart. I would log in my birthday along with the other party's birthday and I began to study how the aspects correlated.
I just reread Liz Greene's "Astrology for Lovers". As a Libra would be, I'm fascinated by relationships. I, of course, also studied my chart, karma and personality traits in depth by studying my own chart.
NW: Have you ever identified and solved a problem through astrology?
JE: Of course. I've been a freelance professional since the very beginning of my career 17 years ago. It was and still is vitally important that I understand my colleagues and their general nature as quickly as possible. Though I don't ask my colleagues signs as often (it would usually come up organically, but the question certainly sat in my mind), I've learned the signs that I typically attract and have long professional relationships with.
I typically attract Scorpios, Geminis and Capricorns. Sagittarians and Aquarians tend to be good professional matches as well. Because I've learned this through experience, it solves a lot of communication issues.
I mainly study astrology to create healthy relationships because longevity is something that's really important to me as I get busier. A year or longer contract is much more desirable than a one-off article assignment.
NW: Your book is a beautiful beginners leap for Black Girls interested in Astrology. The illustrations alone are affirming and energizing! What do you hope readers will get from reading and working with your book?
JE: I hope young Black girls who are interested in mysticism don't feel as alone as I did. I like being alone and self-study, but I always felt different. It's amazing to be different but not when it comes to race. Modern and Hellenistic Astrology has been marketed as a very white practice. That's not ok, particularly when astrology was used in Egypt, Middle Eastern and Eastern cultures. It's not enough to say, "Ok, we're going to call it Western Astrology so we don't have to acknowledge ancient and current practitioners of color."
I wrote the book I would have loved when I was a girl. I don't think it would have kept me from studying other sources from white practitioners, it just would have been a part of my collection, my library. I would not have discriminated as a student, so I don't think the mainstream astrology educational realm should discriminate by not being intentionally inclusive.
I would like girls to feel safe and have fun! Astrology is fun and fascinating. I don't know what I would have done with my spare time if I wasn't studying. Maybe I would have gone down an unhealthy path if my attention wasn't so engaged in my practice. Astrology is a healthy outlet for kids. I can keep Black girls from doing drugs or spending time with the wrong crowd. It supports strong cognitive skills and requires the student has a good memory, intuition and empathy as they begin to read for other people.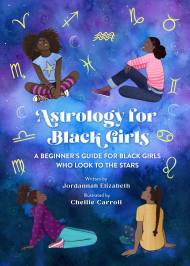 Illustrated by
Chellie Carroll
Astrology for Black Girls is a charming introduction to the wonders of self-discovery and empowerment through the Zodiac.

Astrology for Black Girls gives young girls information and context for the core foundations of the Zodiac. This book provides the perfect introduction to the sun, moon, rising signs, and more. Speaking directly to black girls, author and life-long astrology practitioner Jordannah Elizabeth address:
Practicing both Faith and Astrology
Talking to Family and Friends about the stars
Using the Zodiac for discovery and understanding 
 Complete with four-color illustrations by Chellie Carroll throughout, this beautiful book will capture the imagination of middle-grade Black girls for years to come.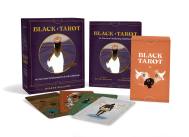 Illustrated by
Kimishka Naidoo
Awaken ancestral ties and connect to the divine with Black Tarot, a deluxe tarot deck and guidebook set from author Nyasha Williams, featuring and celebrating exclusively Black figures and imagery.

Let your guiding spirits and ancestral figures come through with this stunningly illustrated tarot deck and guidebook. Black Tarot is the tarot deck you've been missing, complete with 78 tarot cards featuring all Black representations of classic tarot figures and iconography (The Sun, The Moon, Judgement, etc.). An accompanying illustrated guidebook with information on each card including traits, descriptions, action steps, flower, element, chakra, affirmations, and more. Throughout, find lessons on how the moon's cycle and the element of water influence your life, your readings, and your connections with the divine.
DELUXE SET: This set includes 78 full-color illustrated tarot cards (3 X 5 inches), shrink wrapped in an interior travel case; a 144-page, full-color illustrated flexibind book (4 3/4 X 6 inches); and a keepsake magnetic closure box with a flocked tray and metallic highlights on the box and cards. 
FULLY ILLUSTRATED TAROT GUIDEBOOK: A 144-page full-color guidebook explaining how to best use the cards is included.
ORIGINAL ILLUSTRATIONS: Each card features stunning art created exclusively for this tarot deck and guidebook.
A note on packaging:
 In order to help honor our planet and reduce waste, we have only shrink wrapped the interior tarot cards, rather than the keepsake box. Please feel confident that your product is not defective or used, but rather represents a step we are taking to protect our collective home. When you open your deck, you will find that the actual cards inside the box are shrink wrapped for protection and to ensure first use by the buyer.
Illustrated by
Kimishka Naidoo
Let this guided journal, a stunning companion to Black Tarot: An Ancestral Awakening Deck and Guidebook, help you connect with the divine.

Dive into this beautifully designed journal, filled with prompts, questions, tarot advice, plenty of writing space, and more to help you record and reflect on your tarot journey. This journal is a companion to Black Tarot, a tarot deck and guidebook that draws influence from the moon and the water and features exclusively Black figures. Customize your journal and chart your own tarot journey with the four enclosed sticker sheets.
SPECIFICATIONS: 6 inch by 8-inch, 176-page flexibind journal
DELUXE PACKAGING: This guided journal is full-color inside and out, with beautiful illustrations
STICKER SHEETS INCLUDED: Includes 4 sheets of full-color stickers 
PAIRS WITH TAROT DECK: This guided journal is a companion guide to Nyasha Williams's Black Tarot